On April 19, 1912, New York Giants star pitcher Christy Mathewson was awarded a car by the hometown New York Giant fans and the New York Evening Mail prior to the start of the season opener. These postcards and newspaper clips tell the story.

1912 - Matty Gets a Car

CLICK ON THE IMAGES TO ENLARGE

Copyright 2016 -- VintageBall.com


On April 19, 1912, Christy Mathewson was awarded a car by the hometown New York fans. It was prior to the Giants home opener at Brush Stadium that Mathewson was presented with a Columbia-Knight roadster (complete with Ajax tires) by the New York Evening Mail. The newspaper had taken up a collection from the fans to purchase the car -- overseen by what it had dubbed the Matty Fund Committee. After the ceremony, Mathewson won the game 6-2, facing off against Brooklyn star Nap Rucker.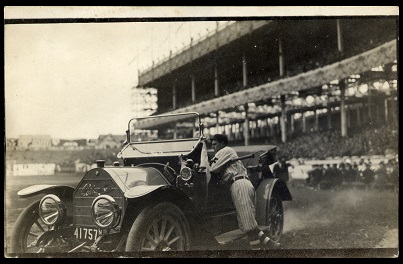 This real photo postcard shows Fred Snodgrass in uniform inspecting Matty's new roadster. On the reverse, Snodgrass has written "A fan gift to Matty." This postcard originated from a small Fred Snodgrass collection of 1912 postcards and photos of Snodgrass and his teammates.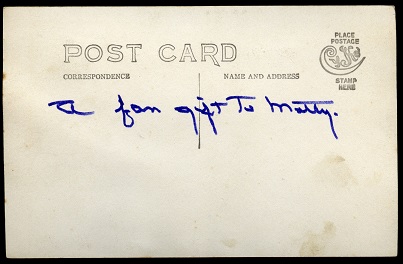 The Giants matched up against the Boston Red Sox in the 1912 World Series, and Matty's new car again found its way onto a postcard -- via a message on the reverse of a double-fold postcard issued by Adlers Gloves, depicting a panoramic view of the opening game of the World Series at New York's homefield on October 8, 1912.


Adlers Gloves, which had a billboard in the outfield bleachers, gifted Matty with driving gloves to go along with his new car earlier that spring. On May 3, 1912, Matty sent Jacob Adler & Co. a thank you letter for the gloves, which Adler printed on the reverse of this panoramic bi-fold postcard when the Giants made the World Series later that year. The card was published by Darvin D. Silberer. The Adler billboard can be seen in the bleachers (perhaps added to the image by the cardmaker), and another billboard for Young's Hats most definitely was added by the cardmaker to the image of the outfield wall. Actual billboards for Fatima cigarettes and Apollinaris Water (for which Maty was a pitchman) can be seen in the outfield.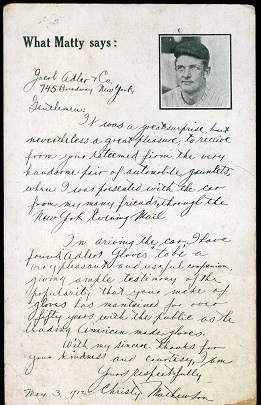 Below are some newspaper accounts of the April 19, 1912 car ceremony, along with a photo of one of the actual Adler Gloves billboards at the Polo Grounds during the 1912 World Series: